Are you looking for help with online social media for your business or organization?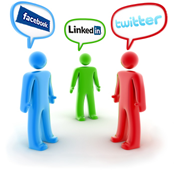 Hi everyone, we are in the process of building this page. If you need Online Social Media Guidance please contact us so we can share our expertise with you and your business or organization.
Social Media Strategy
For clients who prefer to handle their own social marketing, DRCS Solutions can deliver the social media strategy, planning and knowledge to execute internally. Social media strategies are comprehensive blueprints that are designed to integrate with your company's overall business goals and marketing activities.
Social Media Management
DRCS Consulting can act as an extension of your marketing department and assume complete management of your social marketing program. You will have a dedicated social marketing person that will take on all tasks and responsibilities associated with creating, implementing, managing and promoting your social communities—all at a monthly rate far less than the cost of hiring a full-time employee.
Social Media Integration
DRCS Solutions will look at your Web site/Blog and see how you would benefit from an interactive widget or plugin campaign. This includes identifying what type of widget/plugin may work for your site, its probability for success, and what your competitors are (or are not) doing and how you can better that.
Social Media ROI Strategies
Social media is NOT free. It takes people, technology, and time, all which are valuable resources. These resources equal 100% of your Social Media budget. DRCS Solutions will work with you on strategies to measure your results of your social media investments (financial and non-financial impacts). This could range from cost reduction of customer service to revenue gains from obtaining new customers.
Social Learning Strategies
For years now learning leaders have been creating programs that blend traditional, instructor-led learning experiences with online learning. They have found that there are benefits to both approaches, and used in conjunction, they can reinforce
each other's value. With social learning, we now have another tool to make our existing instructor-led and e-learning
initiatives better, more engaging, and with improved learning outcomes.
DRCS Solutions will work with you to develop a social learning platform that allows your organizational experts to share their knowledge and content in an organized, secure, easy-to-use online learning environment.
Online Reputation Management
Do you have an online reputation problem? We can help! We develop custom strategies for dealing with disgruntled employees, sneaky competitors or more serious customer service concerns. We are discrete and incredibly effective when we do the work internally. Our work is usually split into brand or individual audits, as each has unique problems associated with it. No problem is too big, however, you might not like what we find. Let's talk privately if you have a very large or complicated situation.
Social Media Training
Social media is the new "it" factor in business. Every business knows they should be using it, but many are unsure where to start or how to use it to their advantage. Most business leaders are spread so thin they don't have the time to learn about the different social media and keep up on the latest developments that impact their business.
Social Media Audit
This is an in-depth analysis of your site's presence across the various social networks and a strategy for ways to improve it. Not every site has a place on Digg or MySpace, so we cater our suggestions to realistic options including niche opportunities and relevant mainstream tactics.
Your Business or Organization
Our mission is simple. To build such a strong relationship of trust with our customers that they instinctively think of us whenever they or someone they know needs the type of services we provide. With that said, we want to team up with your business or organization to provide creative technology solutions and resolutions to issues.