Are you looking for a web-based collaborative project management solution for your business or organization?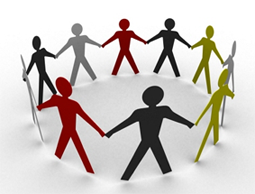 Projects require lots of planning, organization, communication, and coordination between members. Popular online project management applications address the following functions in getting things done:
Project planning
Task management
Document sharing
Contact management
Time tracking
Communication tools
Issue handling
Reports
Notifications
Project Management is all about communication
Projects go well when people talk to each other, discuss issues openly, and communicate clearly. With the advent of the Web 2.0, project management and collaboration tools have surfaced all of the web.  There are literally hundreds of them, but which ones are the best and which one is the right choice for your business or organization?
You and your team already know how to conduct the project management process…we are not here to tell you how. However, DRCS Solutions can help you find the right web-based tool to help you move your project management online.  
If you need Online Collaborative Project Management Guidance please contact us so we can share our expertise with you and your business or organization
&nbsp