Do you have a strategy for Apple iOS devices in your business or organization?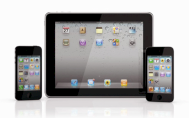 Just like many of you, we have embraced and are passionate about the Apple iOS device technology and believe that this trend is the doorway to the future of digital communication and productivity. However, we know that bridging to new technology results in many new challenges. DRCS Solutions knows these challenges and we have worked hard to provide our customers iOS solutions to effectively address them.
Apple iOS devices can transform the way you work, and we can help you make that transformation easy. Whether you need advising, implementation, management, support or training, contact us and let's work together.
iOS Devices
Solutions/Services
Your Business or Organization
Our mission is simple. To build such a strong relationship of trust with our customers that they instinctively think of us whenever they or someone they know needs the type of services we provide. With that said, we want to team up with your business or organization to provide creative technology solutions and resolutions to issues.